DSA Pass Plus Lessons (inc. Motorway)
Pass Plus is an established training course aimed at new drivers, building on your skills and knowledge. It will teach you how to anticipate, plan for and deal with all kinds of hazards, to help you become a more confident driver.
It was designed by the Driving Standards Agency (DSA) with the help of insurers and the driving instruction industry, and helps reduce the chances of an accident post-qualification. Pass Plus training will take at least six hours, though it can take longer if your instructor thinks it's necessary, and comprises six modules.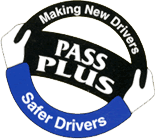 In town.
In all weathers.
At night.
On rural roads.
On dual carriageways.
On motorways.
At the conclusion of the course you will receive a certificate which can be used to claim discount on your car insurance from a number of policy providers. You will not have to take a test at the end of the course but you will be continually assessed by your instructor.
| | | |
| --- | --- | --- |
| Pass Plus 1 Hour Lesson (minimum requirement of 6 hours) | £ | 37.50 |
Motorway Only Lessons
Whilst Pass Plus includes a motorway module, we offer standalone motorway tuition post-qualification to best prepare you for Britain's fastest roads.
| | | |
| --- | --- | --- |
| Motorway Tuition 1 Hour Lesson | £ | 37.50 |
Contact us on 07973 634473, or use our contact form.